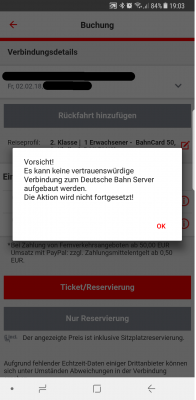 I just tried to book a train ticket via the DB Navigator app on an Android mobile from within my home network wich is using Pi-hole as DNS server to block advertising.
Picking the connection works fine, but once you try to book a ticket, you will get a warning unless you whitelist the following domains:
dpm.demdex.net
m.exactag.com
tags.tiqcdn.com
track.adform.net
(Maybe one can get away with a subset of those)


Demdex seems to be a Adobe service called "Adobe Audience Manager":
It's a data management platform (DMP) that helps you build unique audience profiles so you can identify your most valuable segments and use them across any digital channel.
(https://www.adobe.com/data-analytics-cloud/audience-manager.html)


Exatag describes itself as:
Exactag combines classic marketing mix modeling and digital marketing attribution to create a revolutionary new cross-media approach: marketing mix attribution.
The result is a comprehensive platform for increasing efficiency across all digital and analogue marketing activities.
Tiqcdn domain seems to belong to Tealium:
Tealium is a US American company [...] that sells enterprise tag management and marketing software.
(https://en.wikipedia.org/w/index.php?title=Tealium&oldid=807343845)


Adform is described as:
Adform is a global digital media advertising technology company. Based in Copenhagen, Denmark the company operates globally with its primary presence concentrated in the European, UK, and US markets. The company was the first pan-European DSP (Demand-side platform) [...]
(https://en.wikipedia.org/w/index.php?title=Adform&oldid=817305135)
Good to know you are always on the right being "tracked" using the DB-Navigator app...